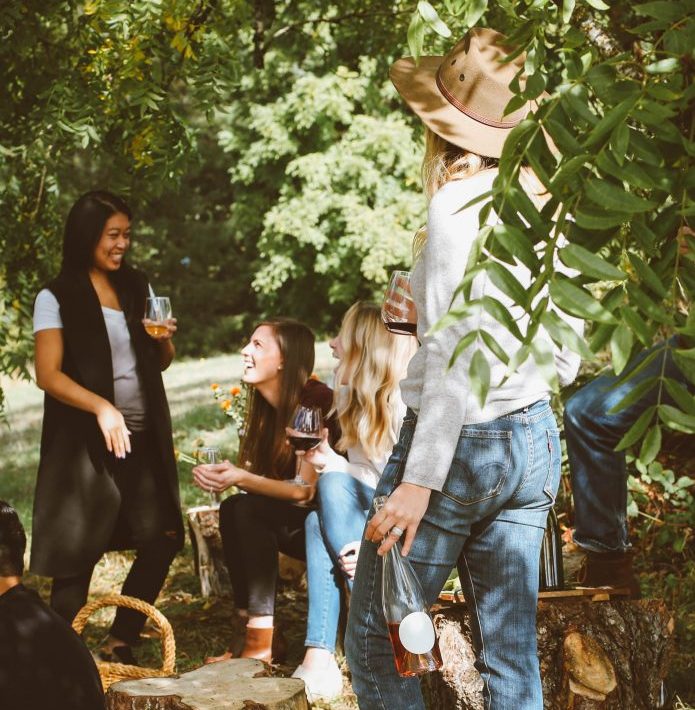 21 Feb

4 Reasons to Plan a Wine Tour Bachelorette Party in Kelowna

While getting married in the Okanagan is a dream come true for some brides, celebrating the upcoming nuptials here can make for some amazing memories too. With a staggering number of incredible wineries calling the Okanagan Valley home, wine tour bachelorette party options are just as plentiful.

Now that the bride-to-be has picked you as her maid of honour, you've yourself planning a bachelorette party! If a wine tour isn't at the top of your list yet, here are five reasons why it should be.
1. Stunning Scenery
The Okanagan Valley is home to some of the most stunning landscapes. Nestled somewhere between snow-capped peaks and sparkling blue water are hundreds of acres of vineyards.
Thousands of rows of grapevines run from nearly the water's edge up to the tallest peak, producing some of the best wine in Canada. Plus, the weather during wine season is typically sunny and warm, which means you can enjoy the beautiful views from outside and not behind a window.
2.  Bachelorette Wine Tour Options
Whether you plan on spending the entire day sipping on wine or just half the day, you'll be able to customize your tour any way you'd like it.
Want to spend the morning at a salon getting pedicures and facials? No problem. Just have the tour company pick up you and the rest of the bridal team at the salon. They can even stop at an amazing restaurant for lunch or dinner.
Or maybe you'd like to get an early start so you can spend the evening checking out some of the local pubs and clubs. That can be arranged too. When you book stagette wine tours, you'll be able to pick when you start, where you go, and when you finish.
3. High-Class Travel Accommodations
If you thought that booking bachelorette wine tours in the Okanagan meant hanging out on a school bus all day, we've got news! At Teehouse, our wine tours promise sleek transportation in our luxurious van (a Hightop Mercedes Sprinter Van)—and your group has it all to yourself on private wine tours. For standard wine tours, we can pick you up at your accommodations.
4. Explore the Valley
If the bride has friends coming in from out of town specifically for the bachelorette party, take them on a wine tour that ventures beyond Kelowna. In addition to the ever-popular West Kelowna wine tour, our Okanagan wine tours include:
Lakeshore Fab 5 Wine Tour
Summerland Bottleneck Drive Tour
Lake Country Wine Trail
Naramata Bench Tour
Okanagan Falls Wine Region
Oliver Wine Region
You'll be able to show them the beauty of the valley from the comfort of a chauffeured ride while sampling some of the best varietals in the valley.    
Check out our previous post for a little wine tour bachelorette party itinerary inspiration: Throw a Perfect Bachelorette Party.
Teehouse Wine Tours is one of the top-rated wine tour companies in Kelowna. Book your wine tour bachelorette party with us and discover the unrivalled experience we offer.