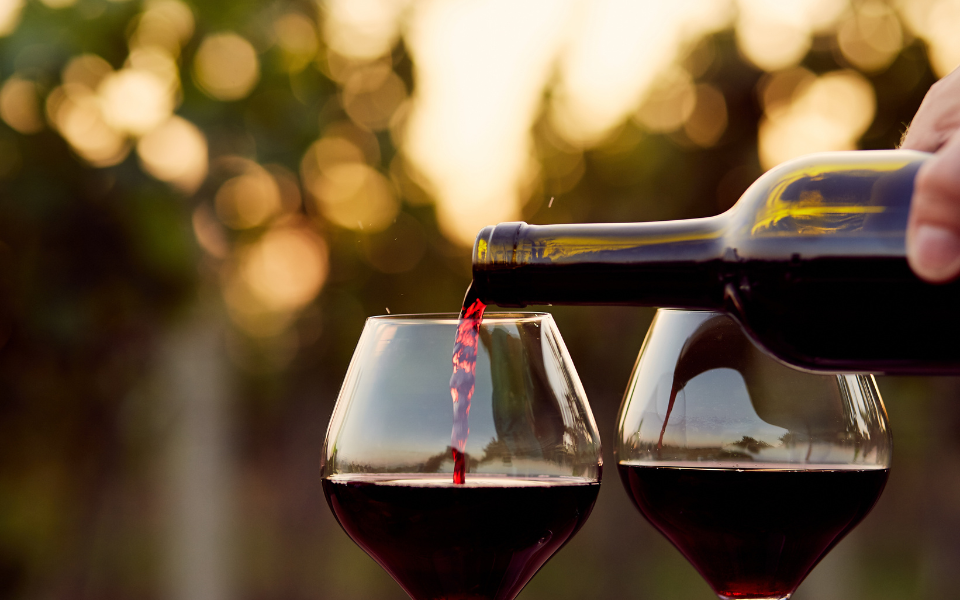 05 Apr

5 the Best Red Wines in West Kelowna

With a unique terroir and spring and summer shade on the slopes of the mountains, the best red wines in West Kelowna feature distinct tasting notes you won't find anywhere else in B.C.'s premier wine region.

They're the perfect pairing with your favourite steak and are made for sharing a glass with those closest to you. And when you cross Okanagan Lake on the William R. Bennett Bridge to rest under Mt. Boucherie, you'll find some truly remarkable wines waiting to be sampled.

Here are some of our picks for the best red wines in West Kelowna.
1. Mission Hill Family Estate – 2018 Oculus
Harvested in October 2018 and aged for 19 months in barriques—a style of oak wine barrels born in Bordeaux—Mission Hill Family Estate's 2018 Oculus draws its name from the classic Roman windows of the Pantheon. Mission Hill's own oculus welcomes natural light into the underground barrel cellar where this vivid and fragrant Bordeaux-style reaches maturity.
Mission Hill's 2018 Oculus is perfect for those who love:
Fragrant currants and ripe blackberries on the nose
Earthy complexity with hints of licorice
A rich and savoury finish
2. Quail's Gate Family Estate – 2017 Stewart Family Reserve Pinot Noir
The Stewart family has been farming these fields for generations, and their love for the land shows in their 2017 Stewart Family Reserve Pinot Noir. Available through Quail's Gate Family Estate Winery's popular wine club, the grapes for this acclaimed red are harvested on the slopes of Mt. Boucherie.
This delectable wine is a favourite for wine lovers who enjoy:
Aromas of clove and nutmeg
Notes of cherry, raspberry and plum
Soft tannins for a memorable finish
When you're ready to try some great West Kelowna reds, Teehouse is the only West Kelowna wine tour operator to guarantee tastings at both Mission Hill Family Estate and Quail's Gate Family Estate wineries.
3. Indigenous World Winery – 2016 Simo Small Lot Red Blend
A Bordeaux-style blend of Merlot, Cabernet Sauvignon and Cabernet Franc grapes grown right here in the Okanagan, Indigenous World Winery's 2016 Simo Small Lot Red Blend continues the blend's award-winning legacy.
Pronounced "see-moo," this signature blend aged for 44 months features:
Fragrant leather, raspberry and vanilla on the nose
Decadent notes of black currant, cherry and white pepper
A soft tannin finish with notes of anise and tobacco
4. Mt. Boucherie Winery – 2018 Summit
The pinnacle of Mt. Boucherie's red wine blends, the 2018 Summit showcases the grower's dedication to the vine and the winemaker's artistry in the cellar. A blend of premium Merlot, Malbec, Cabernet Franc, Cabernet Sauvignon and Syrah grapes from vineyards across the Okanagan and Similkameen, the 2018 Summit pairs beautifully with steak.
Mt. Boucherie's 2018 Summit welcomes notes of:
Black currant and red fruits
Cedar
Distinct minerality
5. Black Swift Vineyards – 2019 'Stones Throw Vineyard' Pinot Noir
Rounding out our list of five of the best red wines in West Kelowna is the 2019 'Stones Throw Vineyard' Pinot Noir by Black Swift Vineyards. Harvested with grapes cultivated during a cooler vintage yet featuring characteristics of a warmer climate pinot, Black Swift Vineyard's acclaimed pinot noir is a complex wine aged for 26 months in neutral wine barrels.
Sample the 2019 'Stones Throw Vineyard' Pinot Noir to experience:
Floral notes on the nose
Hints of deep, rich and savoury red fruits
A velvety smooth finish
Ready to sip and sample your way through some of the best red wines on a private West Kelowna wine tour?
While the wines available to taste depend on the wineries' current offerings, wine lovers looking to sample the best red wines in West Kelowna are sure to find their new favourite reds with visits to these and other acclaimed wineries. Contact us to learn more about our private, standard and half-day tours.