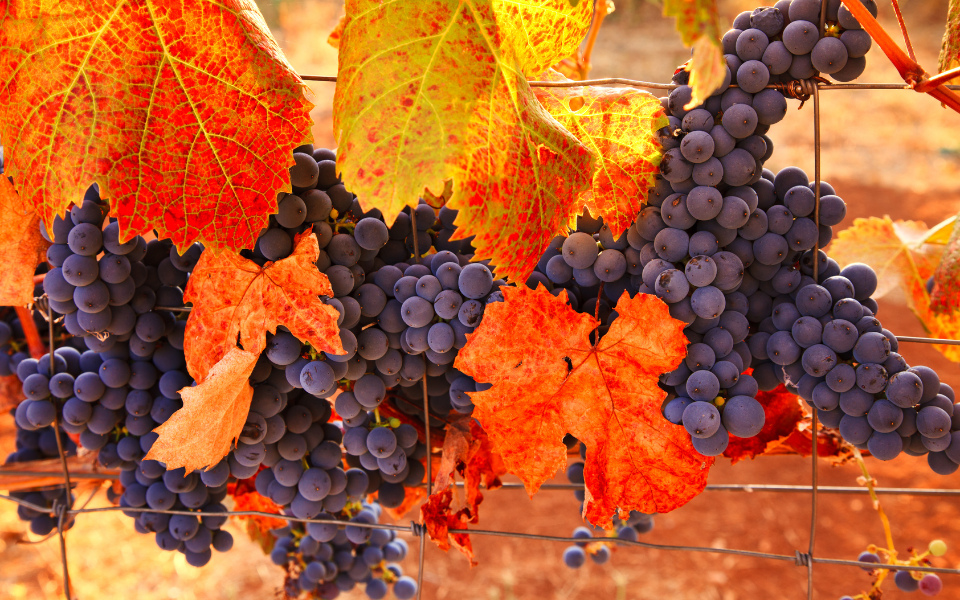 06 Jun

Fall wine tours: 4 reasons why tastings are better in autumn

The sun's deep orange glow blanketing the lake and vineyards, the plump grapes dangling from the vine ready to harvest—there's something magical about fall wine tours in the Okanagan.

As grapes are collected, sorted and crushed, wineries come alive to herald the start of winemaking season. This excitement, paired with the serenity of autumn and quieter tasting rooms, makes for an unforgettable West Kelowna wine tour experience.

So, grab your cardigan—here are four reasons why fall wine tours deserve a spot on your bucket list. 
1. Picture-perfect scenery
Leaves crunch under your feet as you walk through the vineyard. Take in the bunches of purple grapes clinging to the vine wrapped in vibrant orange leaves. Follow the path as it rolls down the slopes of Mount Boucherie to the mirror-like Okanagan Lake below.
When you book a West Kelowna wine tour, you're surrounded by the beautiful colours of the Okanagan at its finest. Be sure to bring your camera to capture images and moments you'll cherish for a lifetime. 
2. Seasonal pairings
As the weather cools and the harvest begins, the light and refreshing flavours of summer give way to the deep, rich and delicious tastes of fall.
Wherever you stop for lunch on your West Kelowna wine tour, fall is perfect for pairing complex reds with roasted vegetables, hearty stews and apple pie with a dollop of ice cream.
At Teehouse, we are the only operator to guarantee tastings at both Quail's Gate Family Estate and Mission Hill wineries. If you love sipping reds in the fall, sample Quail's Gate's pinot noir with mouth-watering aromas of clove and nutmeg and Mission Hill's rich and savoury Bordeaux-style red aged in barriques.
3. Cozy cellar tours
When it starts to cool down, move the fall wine tour indoors and enjoy a cozy winery and cellar. Here, winemakers are in the process of crafting this year's vintage, granting you a true behind-the-scenes glimpse into how your favourite wines are made.
West Kelowna wineries are known for their cozy tasting rooms. If you love modern architecture and stunning open-concept spaces with accents that make you feel at home, consider a stop at Grizzli Winery. Prefer rustic charm? Check out the hatch.   
4. Relaxed, more intimate atmosphere
Summer in the Okanagan is simply beautiful. With balmy beach days and plenty of sunshine, people from across Canada flock to the region every summer. While the warm weather and excitement of travellers make for great wine tours during the summer, the cooler temperatures and laid-back atmosphere make autumn the perfect time for a more intimate experience at your favourite West Kelowna winery.
When you book a fall wine tour, you have more space to enjoy each winery, each vineyard and each glass. Just grab your closest friends, sit back and let the conversation flow with the wine.
Whether you're planning a fall getaway to West Kelowna or just want to experience the beauty of your own backyard this autumn, we're here to help you make memories. Reach out to us online to learn more and to book your fall wine tour in West Kelowna.